Turkish Munchies vs Universal Yums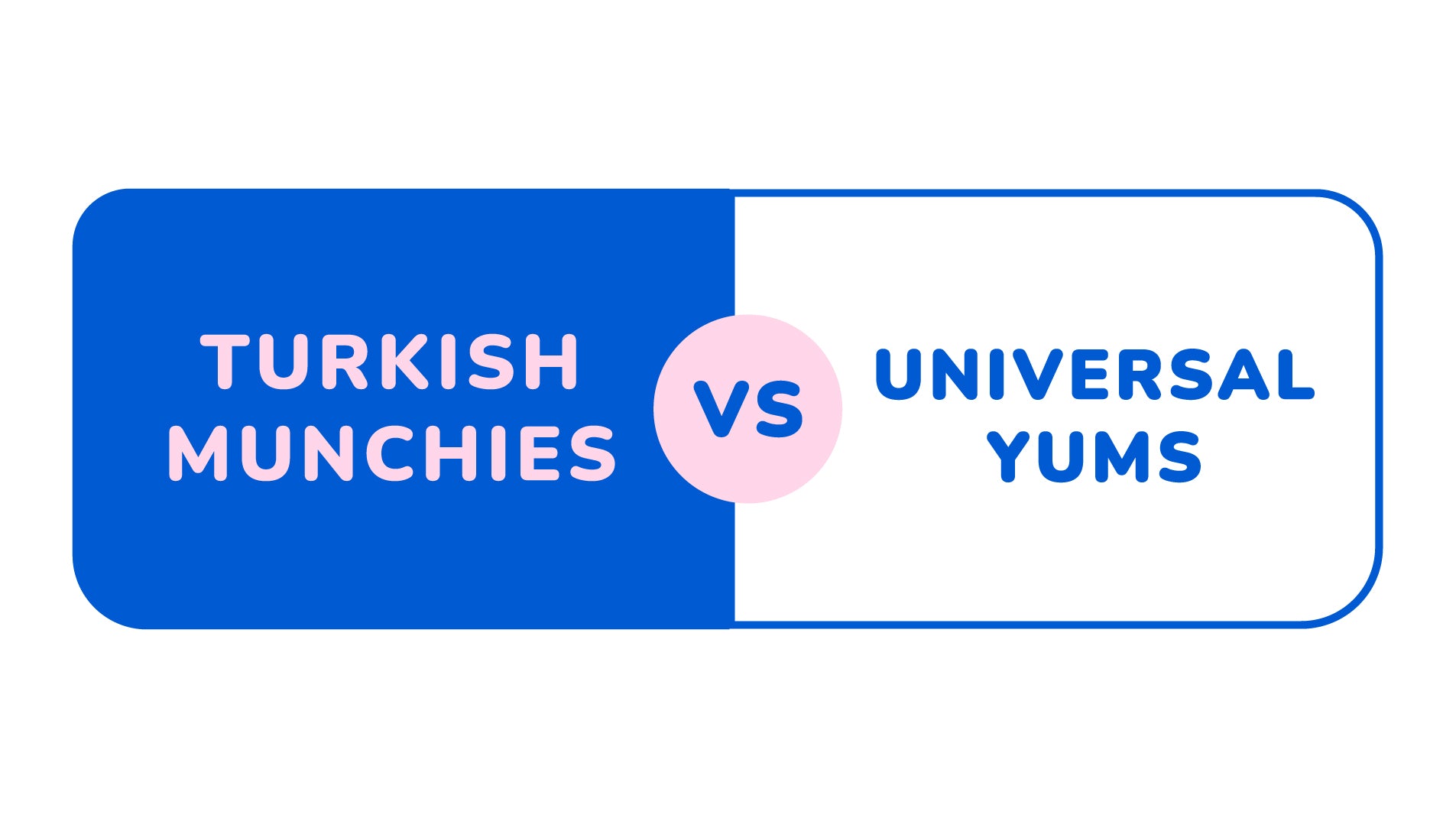 We have come to an end of the comparisons with our competitors. Lastly, we are in the same frame as Universal Yums.
Just like we did with every single brand, once again we are looking at the Amazon reviews. We can candidly say that no one beat us at this part. Same as Munchpak and Tokyo Treat, Universal Yums does not have an Amazon page to have a review at all. Mind you we are not adding this option to beat them easily. All the brands had and some of them still have Amazon pages with reviews. But 3 of them are currently unavailable. No brand only uses Amazon as their selling point but still, these reviews hold a special place. Nutritional fact sheets give an insight into the ingredients of the snacks and let you know whether that specific snack has something you are allergic to or not. Universal Yums does not include a sheet for its customers. Not only does Turkish Munchies include a very detailed nutrition sheet but we also give you little general knowledge about our products as well. The longer the subscription length is, the more affordable the cost becomes. In this sense, Turkish Munchies is in a much more advantageous state. Since Universal Yums only offers 1 or 12-month subscription options, their customers don't have a lot of choices. Turkish Munchies on the other hand offers subscription options between 1-3-6 and 12 months. As we offer more subscription options you save more money. The same cost problem continues with Universal Yums as they charge $15 for only 5-7 snacks while we charge $14.95 for up to 12 full-size snacks. For their biggest box, Universal Yums charges $41 for 15-18 snacks whereas we charge $29.95 for 22+ snacks. And the arrival of these snacks is another matter.  We send our snacks in the fastest way possible; international express so that you don't even forget that you ordered. Universal Yums sends their boxes with the postal service of the country. Well, that means you have to wait long enough to get almost expired products.
If listing all these reasons still has not convinced you, there is one last and most important part that differentiates Turkish Munchies from all other competitors: The Yummy Battle Snack Box
With new characters, the card game gets more and more exciting each month. Also, the Yummy Battle snack box means getting limited-edition boxes. As well as the characters, the snacks keep refreshing too. This limited edition, foreign snack box prides itself on being the only subscription snack box with a card game to enjoy while eating the Turkish Munchies' tasty treats.
So, what are you waiting for? Go and subscribe to the Yummy Battle Snack Box to meet the lovely monsters and share the experience with your loved ones.
---