The Most Famous Beaches of Turkey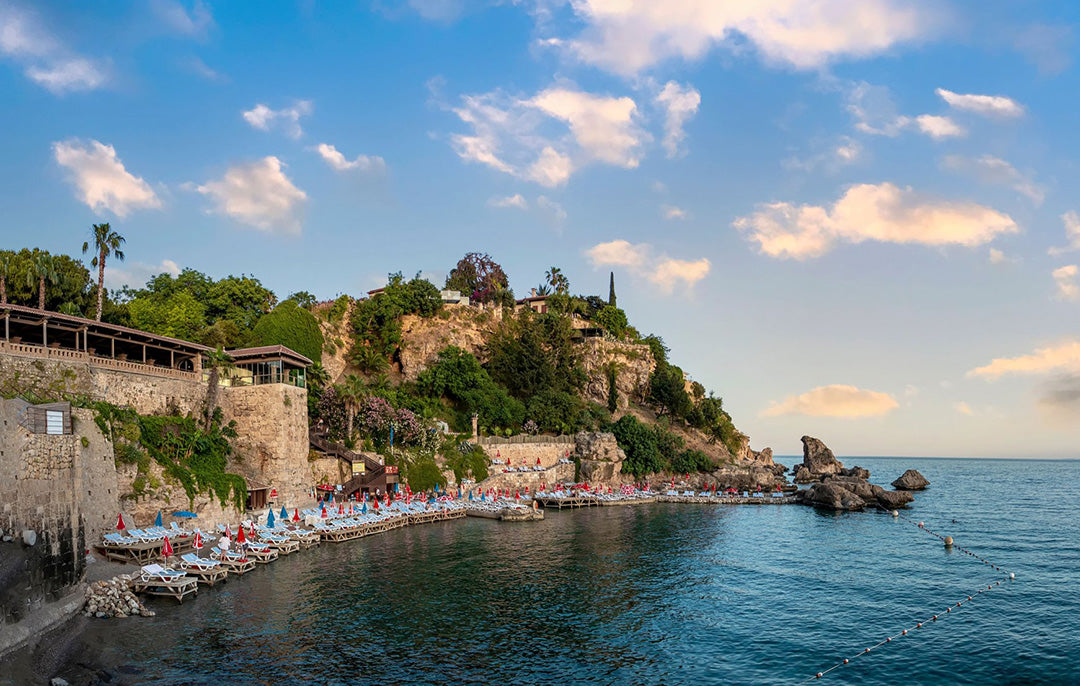 Turkey is the perfect vacation spot for those who are longing for clean, rich blue and warm seas and sandy beaches. Surrounded by the Aegean, Mediterranean, and Black Sea, Turkey is very rich for its famous beaches. Thanks to being surrounded by these 3 extraordinary seas, there are many spots to enjoy them. However, our most famous beaches are located mainly in Antalya, Izmir, and Muğla. You can find private beach clubs and public beaches in any spot you go. You can also see the locations of these dreamy beaches.
Here are some of our famous beaches that you can visit this summer.
Antalya
Konyaaltı Beach
Being the beach gets the most guests every year, Konyaaltı Beach belongs to the public, so no entry fee is necessary. You can spend your days enjoying the warm sea and sand while staying at one of the famous 5-star hotels in Antalya. You can find many shops and restaurants around to meet any of your needs as well. If you're more into nature, you can simply camp on the beach and there are toilets and showers provided by the municipality. But be careful regulation for these kinds of activities may change from time to time.
Damlataş Beach
With its golden sandy beach and deep blue clear water, Damlataş beach is the perfect place to relax and attend activities like snorkeling and freediving. The beach is also very near to a cave which even has the same name "Damlataş cave". As you can understand there are way more activities to do than just going for a swim. You can also find boat tours to visit bays.
İzmir
Aside from great beaches, with a boat trip you can see hidden and hard-to-reach bays in Izmir. The same thing is valid for Muğla as well.  
Ilıca Beach
A public beach where you can see many local people coming to the sea after school or work. Perfect for families with its shallow sea and sandy beach. Since located in the center, it is easy to find many hotels and restaurants that offer delicious local food. Kilometers long Ilıca beach will sure to be etched on your memory.  
Kleopatra Bay
A real secret jewel in a mountain, in order to reach this location, you're going to need a car otherwise it is not a place to visit on foot or any public transportation. Once you reach, you better put your phone on airplane mode since due to its location phone companies charge you as if you're not in Turkey. Since it is a little hard to reach, there aren't any showers, toilets, or cafes. You had better go there prepared. But with its blue and sandy beach, it is definitely worth it.
Muğla
Ölüdeniz Blue Lagoon - Fethiye
The world-famous blue waters of Ölüdeniz are waiting for you to plunge into its warm sea. Surrounded by many restaurants for you to taste the delicious foods and shops to get anything you need to have the best vacation experience. You can also find a bunch of hotels around that are close to the beach. Since it is a protected national park, you need to pay a small fee to enter. Besides enjoying the beach, you can also skydive!
İztuzu Beach - Dalyan
Besides your heavenly vacation if you want to have an unforgettable experience, visit İztuzu beach when it's time for sea turtles to get out of their shells! Every year Caretta caretta turtles lay their eggs on this beach and knowing this made the authorities put this beach under protection to make sure each and every little turtle can make it to the sea! There are even volunteers who help the stuck turtles when it's time to leave for the sea.
When you're visiting, be sure to eat as many delectable Turkish dishes as possible but do not forget to give our snacks a chance as well. If you think you won't be able to find the time to try them all we'd be more than happy to introduce our tasty treats to you in the comfort of your home! All you need to do is to visit our snack boxes and get the one that best fits your needs. Among 13 boxes I am pretty sure you will find one that makes you feel like you're actually in Turkey.
Here are the links to our boxes:
References:
---