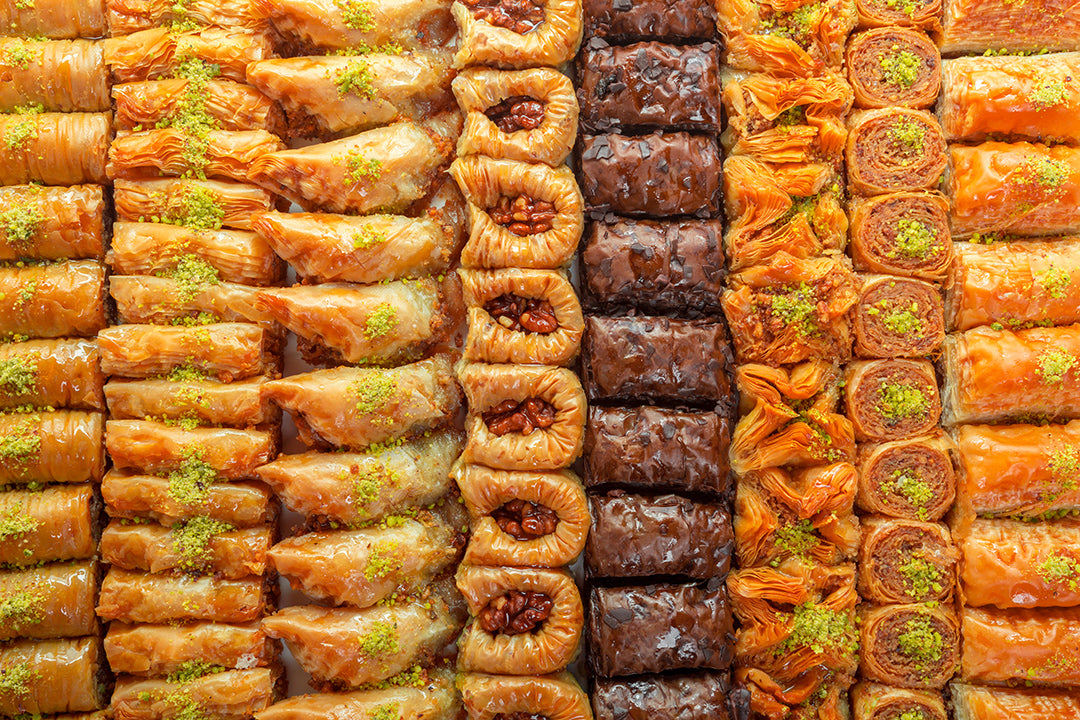 If you are coming from our email then you got the answer CORRECT!
Congrats, according to the Guinness Book of Records "The largest baklava weighed 513 kg (1,130 lb) and was achieved by Mado, Taşpakon, and Ankara Valiliği (all Turkey) in Ankara, Turkey, on 22 March 2018."
The debate on who owns THE dessert has been going on for centuries. Although The EU Commission healed the breach by registering Baklava under Turkey's name in 2013, many countries are still trying for nothing.
Made of special baklava pastry layers, nuts (pistachio, walnut, almond, hazelnut), and sherbet. It may sound easy to do but the way of making it and the quality of these products are what make it such a unique dessert. Gaziantep, the main city of Baklava, is the place where the Baklava experts craft their art.  
History
Ottoman cuisine was one for the books and the effects of it reflect in Turkish cuisine right now. Baklava is one of the finest examples of how impactful the cuisine is to this day. Earliest records show that baklava was consumed during celebration times like weddings, holidays, and in the palace which is why it was considered kind of a sophisticated dessert requiring expertise.  
Known to take its latest form in Topkapı Palace from Mehmed the Conqueror's era.
Varieties of Baklava
The most well-known kind of baklava is the diamond-shaped pistachio one. However, there are more than 220 varieties of Baklava in Turkey and all of them are mouth-watering for sure. Here are some favorites:
Soğuk Baklava (Cold Baklava)
Its difference from the normal baklava is the sherbet. Instead of pouring hot water and sugar sherbet, soğuk baklava has a cold milk and sugar combination, so the taste and calories are lighter.
Sarma
As it is seen from its dense green color, it is different from normal baklava. Still a favorite, nonetheless. The difference is that Fıstık Sarma does not have that special baklava pastry in it instead, has some ingredients like flour, starch, semolina, etc.
Bülbül Yuvası
Due to its shape, this kind of Baklava is named Bülbül Yuvası, literally the nightingale's nest in English. A little pine nut is added to the center of this Baklava.
I have more of these interesting blogs where they come from. Wanna find out more about Turkey, snack boxes, and many delicious Turkish delectables? Just click on Turkish Munchies at the bottom to read more! Do not forget to subscribe to our newsletter for surprise coupons and notices of my blogs. Enjoy :)
References:
---