Antalya: The Paradise of Turkey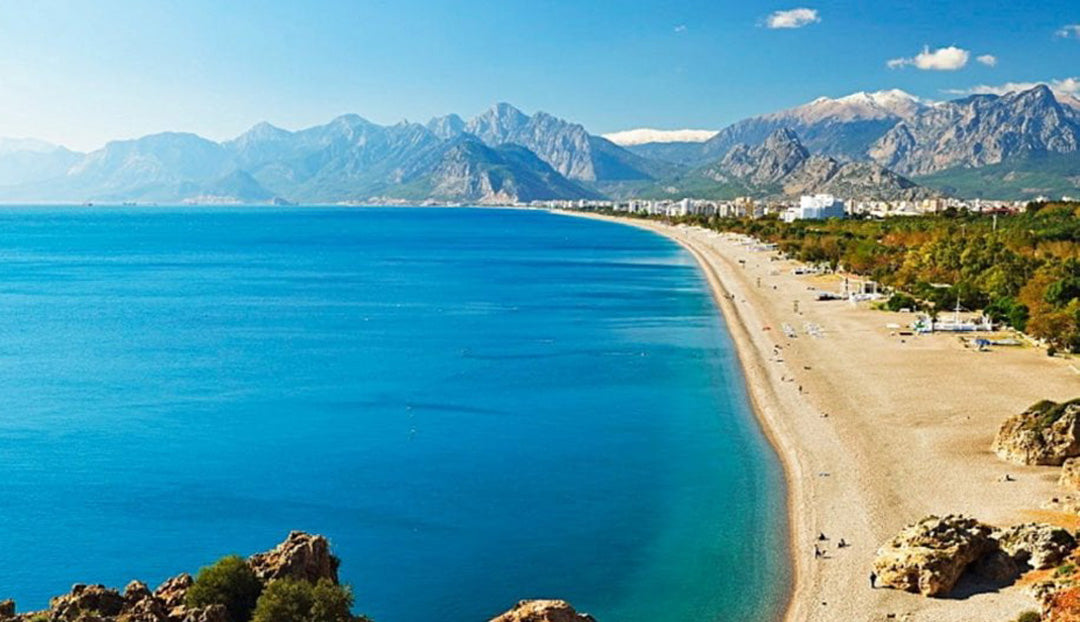 When anyone mentions Turkey, any tourist will say oh I love Antalya. After Istanbul, Antalya is the second city people from all around the world know and love because it is the perfect vacation destination so much so that Antalya is known as the "tourism capital of Turkey". Now that the summer is here, you're probably looking for a new vacation spot to visit and discover its beauty. So, without further ado let me flatter Antalya to you! In this blog, I will mention its world-renowned beaches and important places to sightsee.
Konyaaltı – Lara – Kleopatra Beaches
Antalya is very famous for its 5-star hotels, but you shouldn't simply sit in your hotel throughout your vacation. Visit the infamous beaches of Antalya and refreshen in the warm and rich blue sea of the Mediterranean. With its 13km long blue flag beach and must-see nightlife, Konyaaltı is the most popular among these beaches.
Old Town – Kaleiçi
Kaleiçi is one of the symbols of Antalya. Located in the city center and surrounded with many other significant places to see you could only spend a day and see these locations just by foot. Kaleiçi and Yacht Marina are very close to each other, after visiting you can find a local restaurant and enjoy some Turkish delicacies, especially some freshly caught fish. You can also stay in Kaleiçi which is surrounded by a good number of boutique hotels and pubs & restaurants.
Antalya Golden Orange Film Festival
The Mediterranean side of Turkey is known for its citrus fruit production, especially oranges. That is why the most known film festival in Turkey is called Golden Orange Festival and another reason why we always attribute our orange jelly-flavored biscuit Cin to Antalya! The festival was first held in 1964 to introduce and promote Turkish cinema to the world.
The Ancient Cities and Ruins
This great location did not go to waste in ancient times as well. Throughout history, many civilizations have also adopted this amazing geographical location as home. So, if you're more into a historical vacation rather than a relaxing one Antalya is still a great choice, or you could just do both vacations! Besides the ancient cities, there are multiple natural beauties waiting for you to visit like waterfalls! After all, who doesn't love waterfalls?  
I can keep pampering this magical city, but it would be better if you see it for yourself. If you feel like you cannot visit at the moment no need to worry. In the meantime, if you don't have the time to travel, let us come to you with a box of international snacks all the way from Turkey with our beloved Turkish snacks. Even better if you subscribe you can have us at your doorstep every month!
Here are some of our most loved snack boxes for you to try:
References:
---