7 snacks that represent 7 regions of Turkey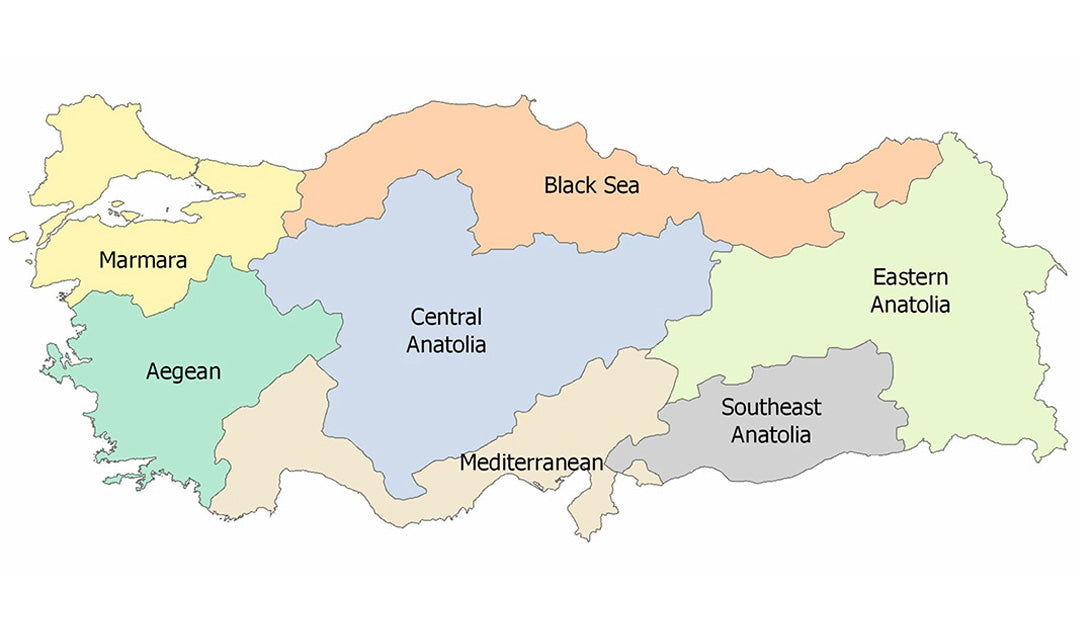 The 7 region of Turkey is one but still very different from one another. That's why just like mentioning the 7-representative food of Turkey this time we wanted to match our snacks that are the best fit for our regions. All the snacks we offer are perfect for anyone who wants to experience it like they're visiting Turkey.
Greta – With its olive and oregano flavor, these crunchy Greta crackers are the perfect snack to represent our Aegean region where olive is primarily produced. The Aegean region is known and praised for its light dinners prepared with olive oil.
Pöti – Our fluffy cake comes in 3 different flavors, however, the fruity one matches our Marmara region. Some of the cities in Marmara are known for their graperies. Alongside grapes, this soft cake also includes fig which is also another fruit that grows in the region.
Cin – If you've ever visited the Mediterranean region of Turkey especially Antalya, you'd be sure to see all the orange trees right and left all over the city. For this reason, the orange jelly-filled biscuit is chosen for this specific task.
Balık cracker – Black Sea region is the primary place where almost all the fish we consume in our country comes from. You might think Turkey is surrounded by seas all around how come the Black Sea is the primary? Well, our warmer seas are mostly for swimming 😊 So, the balık cracker is only the right choice for this region.
Laviva – We love Laviva but the one that gets to represent Eastern Anatolia is its cheesecake-flavored one as some of the most famous cheeses of Turkey are primarily produced in this region. No better place to mention one of the greatest desserts around the world than the Eastern Anatolia region.
Kıstırma – The traditional snack of Turkey couldn't be fit for any other region than Central Anatolia where any tradition is still going strong and maintained for years. Kıstırma consists of our world-renowned Turkish delight between two biscuits. Just like a tradition, it has been around for many years as well.
Southeastern Anatolia Region
List – Southeastern Anatolia Region is the base for producing the corn for Turkey and for our delicious List nuts. Along with corn, the people of southeastern Anatolia are known for their love for hot paprika. So, the two ingredients for our List nuts get to be produced in one region which makes it fit to represent.
All our snacks are the apple of our eyes, and they represent our country and culture perfectly. If you're looking for an exotic subscription snack box brand, no worries you're in the right place. Do not want to subscribe now as you are still not sure? That's fine for us as well! We have snack boxes with no subscription option as well. We have more than 10 international and gourmet snack boxes available for you to buy and they include the snacks I mentioned above! From chocolates, crackers, cakes, chips, candies, and wafers, we're here to satisfy your snack cravings with our premium snacks from around the world.
Here are some of our international no subscription snack boxes:
---