7 Foods from 7 Regions of Turkey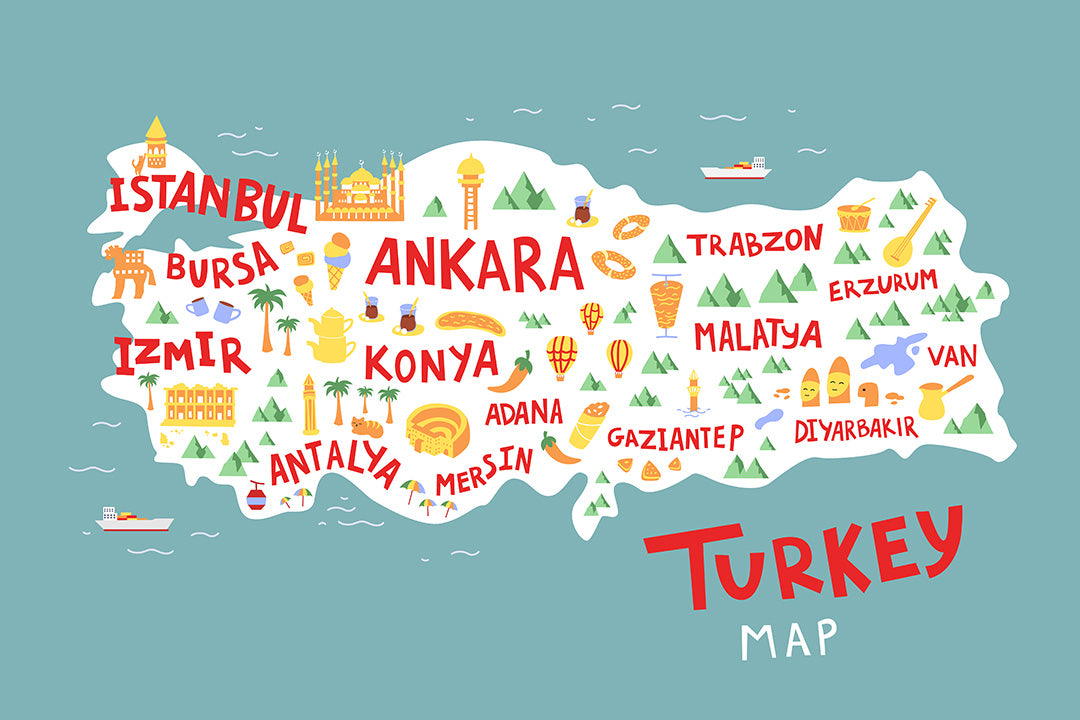 Famous for its versatile cuisine, Turkey's all 81 cities have very distinctive famous dishes that everyone should taste one day. However, covering 81 different foods would take so long. Instead, I decided to introduce you to 7 dishes from 7 regions of our country that covers our 81 cities.
Keep in mind that these are very delicious dishes, but it took a very thorough search to decide on the best representative of our region.
Zeytinyağlı Enginar – Artichokes
The Aegean region is famous for its light food made with olive oil. Since this region is the main producer of olive oil, they get to use it a lot as well. You may ask why artichokes are the most popular things in all Aegean region when all other regions have food with meat or fish. Artichokes are consumed and produced a lot in Urla, İzmir. So much so that, there is an annual Artichoke festival there.  Aside from this dish, there are many different foods made from artichokes. If you're into artichokes as much as people from İzmir, join the 2023 Artichoke Festival on May 6-7th.
İskender Kebab
We have 3 kebabs on our list, so you can say that we love it and understand why it is so famous around the world. İskender kebab is from city of Bursa in the Marmara region. Served on top of sliced pide bread with tomato sauce, what makes iskender is the hot butter poured on top by the server that goes around. From the plate to the butter added in the end, to make this dish delicious you need every ingredient involved to be hot. So, when the server brings your plate don't get confused by their warning not to touch your plate. And eat it as fast as you can so that your butter won't get cold.  
Adana Kebab
Same as the Aegean region, the Mediterranean region is also mostly on light dishes however since the city of Adana is located inside this region, we have no other choice than to choose Adana kebab as our representative of this region. The most distinctive feature of other kebabs is that Adana kebab is quite spicy. If you're not into spice better order Urfa kebab, then Adana. This kebab is wrapped around a lavash and for this dish to be complete you need some other ingredients inside of it like sliced tomato, onion, and some greens like parsley, mint, etc. Best paired with ayran or turnip juice, you should definitely give it a try this dish in its origin city for the full experience.
Hamsili Pilav – Pilaf with Anchovies
If you love fish, you can give this easy-to-do recipe a change. Originating in the Black Sea region, just like most of our dishes involving fish, pilaf with anchovies was our choice although there are many other famous ones and people from this region may not agree with our pick. All you need to do is to clean the anchovies and cook the pilaf with currant and pine nuts. After the pilaf is ready, add the fish to the pilaf and put them in the oven. It is really easy to make this dish only if you're okay with touching the fish.
Kayseri Mantısı
Due to its appearance, you may say it's like a dumpling as almost every culture has a mantı like a dish in their cuisine. However, mantı is way smaller in size and there are even various kinds of Mantı in Turkey. The most famous one originated in Kayseri in the Central Anatolia region. Its most distinct difference from dumplings is that mantı is cooked in boiling water and consumed with yogurt on top with some hot butter and paprika & mint mixture.
Cag Kebab
The main difference of it comes from cağ kebabı being cooked horizontally. Believed to be consumed during Ottoman era due to the travel book depictions. Originated in Erzurum, Cağ kebab even has geographical indication. As I mentioned before we have too many kebabs, but they are all different from one another. This one's difference is that although it is cooked horizontally you don't get a piece of that meat like iskender instead, it is put on special skewers called "bico".
Southeastern Anatolia Region
Çiğ Köfte
Lastly, we have çiğ köfte, it comes from the city of Urfa but since the one recipe with meat was banned as it got popular, people started to get upset stomachs due to under the counter çiğ köfte. Though you can still find çiğ köfte with meat in Urfa, in most cities people get to eat one made from bulgur as it is easier to make, lasts longer and people don't get ill eating it. Like kebab, çiğ köfte is also wrapped inside a lavash with some lettuce, lemon, and pomegranate syrup. Nowadays adding vendors are adding Doritos to give it a more crisp flavor and people are loving that. Don't forget to try çiğ köfte if you ever visit Urfa!
Can't travel to Turkey anytime soon? We may not be able to send you our world-famous dishes but hey you can still try our snacks! From chocolate, wafer, and crackers to cakes Turkish Munchies sends you a box full of international snack assortments to try and fall in love with. What are you waiting for?
Our boxes:
References:
---